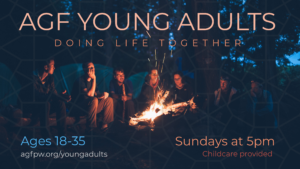 AGF Young Adults Ministry meets every Sunday night from 5pm to 6:30pm. For those with kiddos, childcare is provided. We also do fun outings throughout the year. If you are between the ages of 18 and 35, this is a place for you!
Resources
• Get Our Text Reminders! Text
@ya-agf
to
81010
• Download your financial analysis form here!
CURRENT SERIES: The Book of James w/ Francis Chan
True faith produces fruit. A faith without action and without life change is ultimately a dead faith. The book of James speaks to the realities of a living faith in Jesus—the kind of roll-up-your-sleeves and get-your-hands-dirty discipleship that is borne out of an authentic relationship with the risen Lord. James writes to believers who know suffering, who've faced trials, and who ultimately desire a deep relationship with God.
Francis Chan unpacks the dense truth contained in the book of James in front of the iconic backdrop of San Francisco, the city where he lives and ministers. Through 12 sessions, Francis works through James verse-by-verse, challenging followers of Christ to move beyond a private, intellectual knowledge of God and His Word, to a vibrant faith that impacts every square inch of life.
AMAZING GRACE FELLOWSHIP | 142 S. Stardust Dr., Pueblo West, CO 81007 | 719-547-1600 | 2016-2021. Copyright. All Rights Reserved.