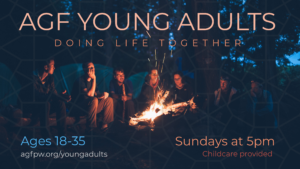 AGF Young Adults Ministry meets every Sunday night from 5pm to 6:30pm. For those with kiddos, childcare is provided. We also do fun outings throughout the year. If you are between the ages of 18 and 35, this is a place for you!
Resources
• Get Our Text Reminders! Text
@ya-agf
to
81010
• Download your financial analysis form here!
CURRENT SERIES:

OVERCOMING ANXIETY DURING COVID-19 w/ JONATHAN POKLUDA
Anxiety can feel like a constricting snake slowly tightening around us until it is difficult to breathe. In recent weeks, the anxiety surrounding the rapid spread of the COVID-19 virus has a hold on the whole world as people die, economies decline, and our lives change right before our eyes.
In this four-part series, Jonathan Pokluda speaks words of comfort and wisdom, to help Christians navigate the areas of life COVID-19 is affecting. During this series you'll be encouraged in how to overcome anxiety in these troubling days and explore ways you can remain faithful to God and to others
AMAZING GRACE FELLOWSHIP | 142 S. Stardust Dr., Pueblo West, CO 81007 | 719-547-1600 | 2016-2021. Copyright. All Rights Reserved.